What are the specifications of the Bluefin 142?
| | |
| --- | --- |
| | |
| Colors: | Chili, Habanero, Sunshine, Surf |
| Assembled Dimensions: | 170"L x 24"W x 16"H / 432 x 61 x 41 cm |
| Nested Dimensions: | 42"L x 24"W x 16"H / 107 x 61 x 41 cm |
| Bag Dimensions: | 44.5"L x 24"W x 16"H / 113 x 61 x 41 cm |
| Cockpit: | 18" x 35.5" / 46 x 90 cm |
| Bulkhead to Seatback (legroom*): | 48.5" / 123 cm |
| Weight: | 59 lbs / 28 kg |
| Material: | Plastic resin specially formulated for kayak industry |
| Max Capacity: | 300 lbs / 136 kg |
| Manufactured: | Made in the U.S.A. |
We have more answers to common questions on our Help Desk
What safety features does Pakayak have?
There are two sealed bulkheads, fore and aft of cockpit, to ensure that the Pakayak stays afloat in the event that you swamp the cockpit. Pakayak also comes with reflective safety lines and watertight hatches.
We have more answers to common questions on our Help Desk
How are the sections held together?
The tongue and groove connecting sections are designed to interlock and keep the watertight seal even in the event of an impact to the hull.
We have tested our boats in temperatures from 30 degrees (Fahrenheit) to baking in the hot sun in the 90's without any problem whatsoever. All of the latches and plates are made of either 316 stainless steel or steel coated with an enviro-coat which gives the same exposure resistance as the 316 stainless steel.
The band spring clamp design has been used successfully for decades in numerous applications without failure and is particularly good at handling vibration or impact such as collision with a rock as it is able to flex with the impact while holding its tension.
Each clamp is rated over 300 pounds of holding force. With 5 clamps in the cockpit section, those sections are held together with over 1,500 pounds of holding force. We have intentionally over-designed our clamps with respect to the forces that could be exerted upon them to ensure the durability of the Bluefin models and the safety of our customers.
We have more answers to common questions on our Help Desk
What size spray skirt will fit?
We offer a spray skirt that fits our Bluefins: https://pakayak.com/shop/nylon-adjustable-sprayskirt/
If you want something else, know that spray skirts have two dimensions you need to be aware of: one is deck size (cockpit) and the other is tunnel size (paddler's torso). It's important that the deck size match the boat and the tunnel size match the paddler.
We have used a Snapdragon Ocean Trek extra large spray skirt and a Harmony 38-20 with our Bluefins and both match our deck size and work perfectly. By using those sizes you will be able to convert to almost any brand on the market.
For Seals skirts and covers, the sizing is a 2.2. View their fit guide here. Here is a fit guide that REI published.
We suggest you determine what type of spray skirt best fits your needs and then try them on to determine the best fit around your torso. The "tunnel" should be water-tight yet not restrict breathing while under exertion. It's best to go try one on and see which fits/feels the best on you in terms of comfort.
We have more answers to common questions on our Help Desk
Can I "mount" and board it from behind like a traditional kayak?
Yes, the Pakayak is identical to the one piece kayaks when assembled. It can be mounted solo in deep water from the stern, it can be rolled, and you will actually find it stiffer than the one piece versions as the connections act as reinforcing bulkheads.
What is the warranty?
We offer a 24-month limited warranty on manufacturing defects. Here is our warranty policy.
Is there a Serial # or Hull ID #?
Yes. All of our boats have a US Coast Guard Approved Hull Identification Number which you will need to give us in the case of needing a replacement part. That number will contain all of the info we will need to trace your boat back to its production time, location, and mold.
What's the length from the back rest to the front bulkhead? Will I fit?
It really matters what your leg length is and how you sit and paddle.
The Bluefin 142 has an inside measurement of the cockpit opening of 18″ wide by 35.5″ long. Length from seat back to bulkhead is 48.5″. We have had many body types in the Pakayak Bluefin 142. Cort, who is in many of our videos, is 6'2″ with inseam length of 35″ and weighs around 190 pounds. We show Cort in the original Bluefin 14 which has 3.5″ shorter leg room in this video at around 2:38: https://youtu.be/Def_3kxLJIs. He fits fine and loves paddling the boat. He is a surf ski paddler and also competes in OC racing (outrigger canoe – think Hawaii). He's the one in the Eskimo roll video. Doug, the inventor, had our dog in his lap while paddling the Bluefin 14 a few times, and combined, they are 240 pounds. At a demo, we had someone who was over 275 lbs in our boat – no problem.
Here's a tip to see if you will be comfortable in the Bluefin 142. Sit on the floor with your back against the wall and place a box 48.5" from the wall. How does it feel? Are your legs and feet happy?
Will it leak?
Of course not! The Bluefin comes with a leak-proof guarantee.
There is a silicone foam gasket, which has the best rating available for exposure to UV radiation and salt water, at each of the connecting sections to keep it watertight. It does not take a compression set. In other words, it does not stay crushed but rather always returns to its original shape. The gasket is slightly oversized and pressed into a 1/4" wide channel at the bottom of the groove where it is protected from damage when the boat is in its disassembled state.
If the gasket is damaged, it need only be plucked out with your fingers or a key, for instance, and replaced by pressing the new gasket in the groove. Once it's clamped together the first time, it will not fall out. If you need one, you can buy a replacement gasket here.
The gasket forms itself to the tongue creating a seal with a large surface area which can overcome minor contamination on the seal but in the event of extreme amounts of sand or dirt contaminating the seal, brushing it clean with a damp clean cloth or rinsing it with water will be all that's required prior to clamping the sections together. We have had our boats nearly buried in the sand and one quick dip in the ocean was all we needed to clean it before assembling.
We include a towel on which you assemble the Pakayak and we recommend a vertical assembly which is the easiest and offers the least exposure to the sand or dirt.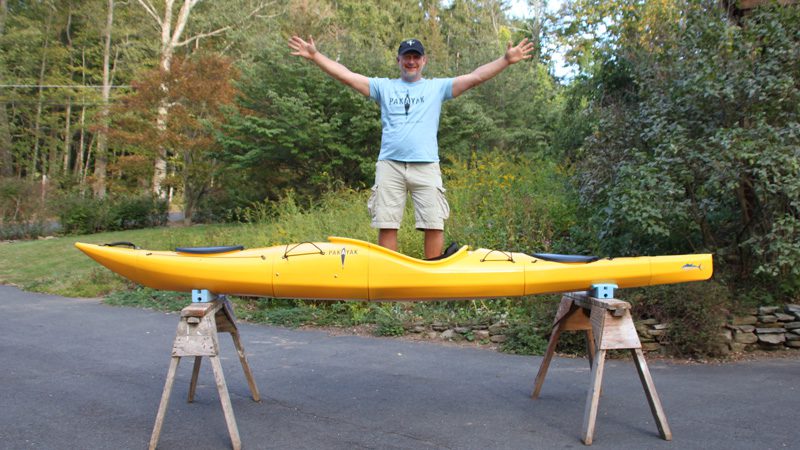 What happens if I hit a rock?
You can expect the same effect as you would experience in other top of the line rotational molded kayaks. If you hit a rock you most likely will bounce off. If you pin the boat against a rock with a large volume of water pushing against it (say, in large waves or river current), you will run the risk of crushing the thinner walled sections of the hull.
Although our boats are designed to meet or exceed the performance of the current available sea kayaks, it is the paddler's responsibility to make good decisions and stay within their abilities for their safety. Of course, you should always paddle responsibly, never paddle alone, wear your PFD, and follow all local laws and regulations.
Click here for our Help Desk